Philippe has been a Bid Manager for Telespazio France since 2005, but has also been involved in contract and project management since 2010. In 2018, as project manager, and assisted by his team, he responded to the call for tender issued by CNES for the Guiana Space Center, concerning the STFOA6 project. The assignment was supposed to last for 2 years, but with the inevitable Covid-induced delays, it actually took 3 years to complete. "The goal was to extend Kourou's existing fiber-optic communications system to make it compatible with Ariane 6. The original system, which was set up for Ariane 5, had already been upgraded to accommodate the other two launchers operated in Kourou, Vega and Soyuz. Generally speaking, launchers are designed to have a lifespan of 20 to 25 years, and we are well aware that the needs of the satellites we'll be launching then won't be the same as those of today, especially in terms of frequency bands. Current satellites use bands such as K, X and KU which can have a range of up to 18GHz. Given the way technology is expected to evolve, we predict that 15 or 20 years from now, we'll use much higher bands such as KA, Q, and so on. It was therefore important to design a new communications system with satellites capable of operating on those future frequencies."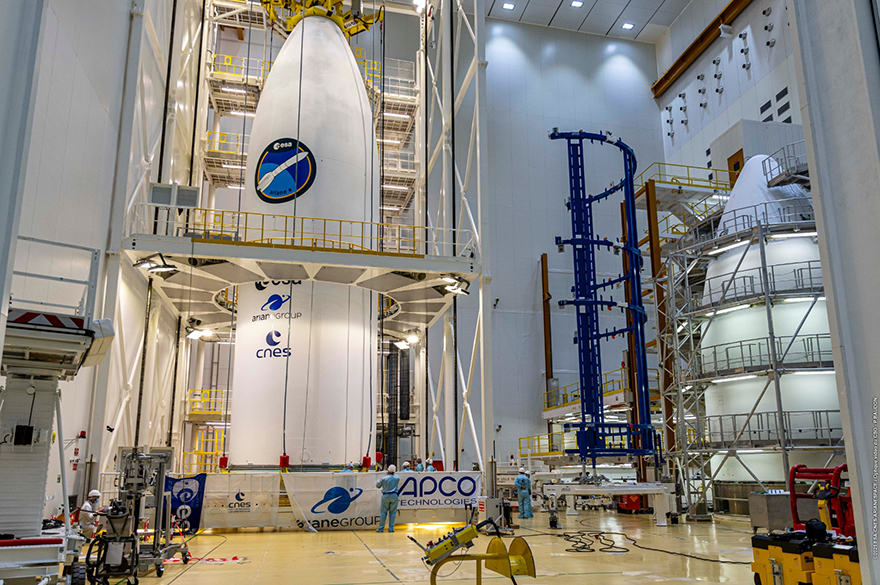 Légende : Ariane 6 – Transfert UC sur UCT
© 2021 ESA-CNES-ARIANESPACE / Optique vidéo du CSG – P BAUDON

But what does STFO actually mean in practice? When a satellite arrives in Guiana, it comes with its test bench, which we use for monitoring and testing. The satellite and its test bench are placed together in a clean room called the EPCU (the Payload Preparation Complex). During the 2 months or so of a satellite test campaign, the satellite is moved between different zones of the facility, bearing in mind that the GSC covers a surface area of 700 square kilometers. The STFO provides the link between the satellite and its test bench throughout the entire period, regardless of its location within the spaceport. To make that possible, a huge fiber-optic network is set up across the facility, because several test campaigns may well be running at the same time.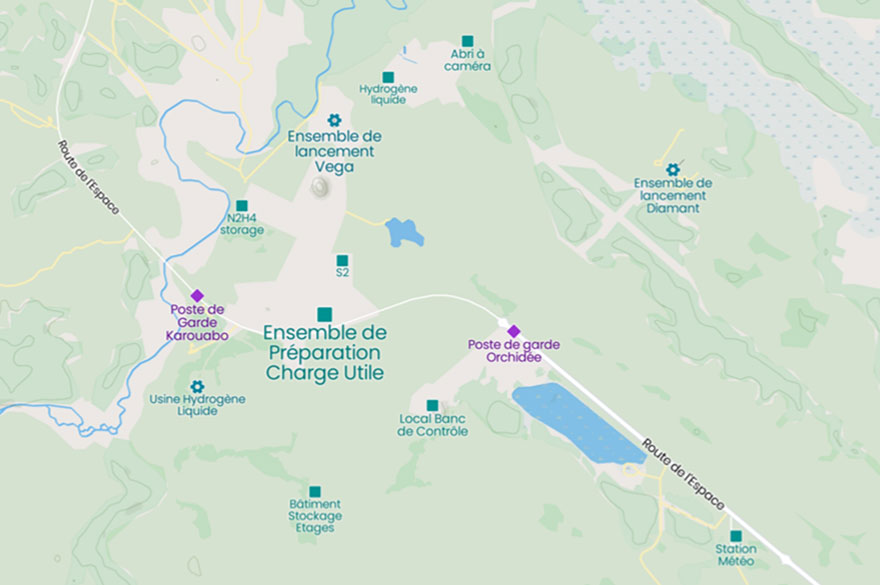 Ensemble de Préparation Charge Utile, Kourou - Mapcarta

Special features of the STFOA6 project

"One feature is that it addresses – especially in terms of frequency and power – sectors in which we've never worked before. Such high frequency bands are not yet produced on an industrial scale, meaning that we are pushing the boundaries of current research; since we have no existing solutions to draw on, we have to identify the right components and put them together. Step by step, one component at a time, we need to combine power, high frequencies and low attenuation to convert this electrical energy into optical energy and carry it over large distances.
Another important aspect of this project is the rule of geographical distribution or fair return, which applies to all programs funded by ESA. That rule meant we had to work with a Spanish subcontractor, so we contacted the Spanish subsidiary of Thales Alenia Space (TASE), which already had solid experience in hyper frequency products. With just one partner, the distribution of tasks and project management proved simple and fluid."
A benchmark project with a bright future

Telespazio France headed up the project, made sure it ran according to schedule and was brought to a successful completion.
We split the project into 3 sub-systems: the first concerned development of the STFO product, the second involved software tasks for system supervision, and the third focused on deployment and validation of the infrastructure in Guiana. In addition to customer relations, Telespazio was responsible for two of the three sub-systems. STFO is a project we'll all remember for a long time, because it's quite rare to see a project of this type and scope delivered on time (leaving the Covid issue to one side), within budget and accepted without reservations. "We owe this success first and foremost to a project team with a balanced array of skills, as well as our winning partnership, in the framework of the Space Alliance, with Thales Alenia Space in Spain, with whom we worked seamlessly. Along with the customer, we formed a solid three-way team from start to finish."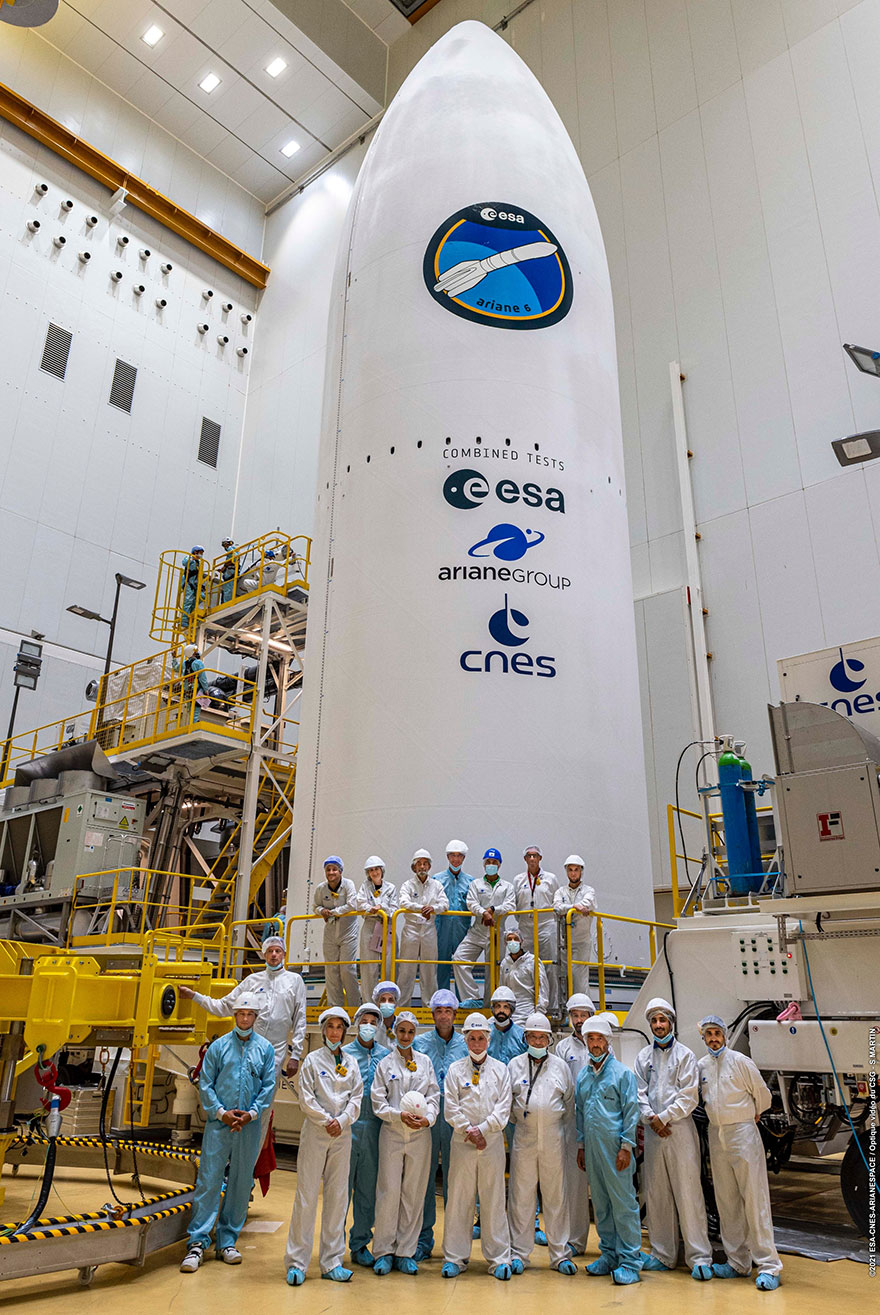 Légende : Ariane 6 – Transfert UC sur UCT
© 2021 ESA-CNES-ARIANESPACE / Optique vidéo du CSG – S MARTIN

STFO now satisfies the needs of Ariane 6. In the future, it could well be extended to Vega C, the new version of the Italian launcher currently in development. Each time we adapt the system for a new launcher, we produce an upgrade. In other words, STFO has a long future ahead, keeping watch over satellites pre-launch.
---
Philippe Riera
Philippe is 59 years old, married and the father of three children. There are two chapters in his career: in Kourou from 1984 to 2001 and in Toulouse since 2001. A qualified industrial computing engineer, he began his career at the Guiana Space Center (GSC), where his tasks included contributing to the development and qualification of the Ariane 4 and Ariane 5 programs, on behalf of Alcatel Space, which went on to become Telespazio France. After his return to mainland France, he left the world of launchers for the world of space operations in the wider sense, with a greater focus on the ground segment. He spent 3 years working for the COR (Network Operations Center) on the CNES site, and in 2005 was appointed to the position of Bid Manager, becoming responsible for answering calls for tender. He now manages a team of 5 people. Since 2010, in addition to his job as Bid Manager, Philippe has been working on both contract management (long-term contracts) and project management (development projects). This was how he found himself in charge of the STFOA6 project, which put him back in touch with Guiana.